The EcoDistricts Summit is Coming to DC. We'll See You There!
We at CityCraft are a far-flung group with roots in communities across North America. We see this as one of our strengths—as a national organization we're able to stay up-to-date on the latest developments around the country, and we bring a rich, comparative perspective to everything we do. However, we also like to connect as a team at special events that complement our mission and educate us on current trends and best practices in the community building and urban redevelopment sector.
This year the entire CityCraft team will come together at 2014 EcoDistricts Summit (Washington, DC | September 24-26), a three day event dedicated to cultivating just, sustainable and resilient cities from the neighborhood up. Here we'll join with some of the brightest minds in the business for inspiration, knowledge-generation, and conversations that stretch long into the evening hours.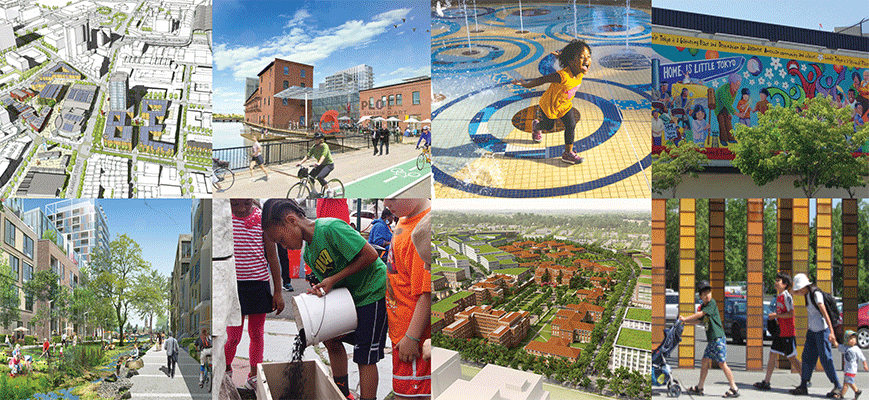 Our connections with EcoDistricts and the Summit run deep. John Knott, CityCraft's founder and president, keynoted one of the first EcoDistricts Summits. His commitment to EcoDistricts, a Portland-based nonprofit, grew over the years, and he's now a member of their board of directors. Our managing director, Geoffrey Reid, is an advisor on the EcoDistricts Protocol, a global standard for district and neighborhood-scale sustainable development, and he spearheaded a successful effort to jumpstart an EcoDistricts-inspired neighborhood regeneration project in Charleston, South Carolina. A team from Charleston participated in an EcoDistricts Incubator in 2013, and their project continues to move forward.
Then, just this past spring, we were proud to stand with EcoDistricts as a formal partner in the new Target Cities project, a two-year partnership with nine development projects across seven North American cities to amplify and accelerate district-scale community regeneration and create replicable models for next-generation urban revitalization. Our own John Knott was there when EcoDistricts CEO, Rob Bennett announced the program as a Clinton Global Initiative (CGI) Commitment to Action at the CGI America meeting.
Three of the nine Target Cities projects are located in DC, which has become a hotbed of urban investment and revitalization, and the Summit will include a series of mobile workshops that get participants out into the neighborhoods to see what's happening on the ground. The mobile workshops will complement a robust line-up of classroom workshops, studio sessions, and keynotes by Happy City author, Charles Montgomery, and Jason Roberts, founder of the Better Block Project. Take a look at the full conference program here.
Our friends at EcoDistricts tell us that conference passes are going fast, so if you have any interest in joining us (and believe me, you're interested) register while spots are still available.
If you're able to make it, be sure to keep an eye out for us. We'll all be there!